Reports
Hundreds of migrants fly home from Tunisia after attacks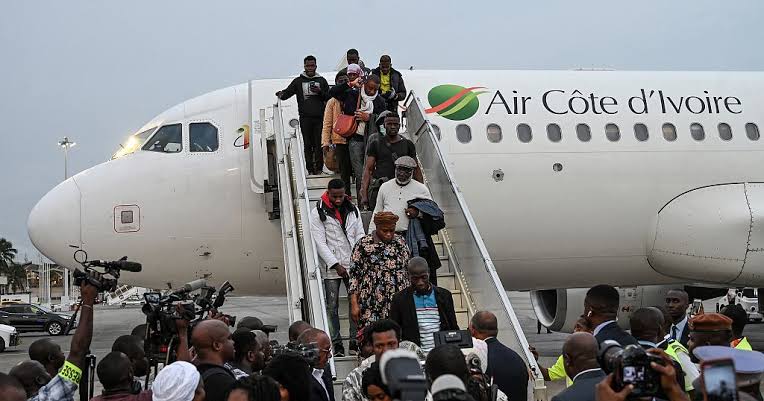 BY| Foreign Policy
African Countries Fly Citizens Out of Tunisia
The World Bank has paused future work with Tunisia while Guinea, the Ivory Coast, Mali, and Gabon are repatriating hundreds of their citizens from the country following a crackdown on Black migrants. As Simon Speakman Cordall reported from Tunis in FP, "Gangs of predominantly young men are nightly kicking down doors and dragging Black migrant families into the street, some to watch their possessions burn. Testimonies of those confined to their houses, too scared to emerge for fear of their neighbors reporting them, are legion," noting, "The plight of Black migrants here is ironically familiar to the thousands of Tunisians who migrate to Europe without paperwork every year."
Tunisian police in a number of cities have detained hundreds of Black African migrants, including women and children. Black migrants have reported being beaten, stabbed, verbally assaulted, and evicted by landlords. Some are having to camp in makeshift tents outside the headquarters of the International Organization for Migration.
As a result, many have been queueing up at their nations' embassies, hoping to be flown out.
Two weeks ago, Tunisian President Kais Saied ordered security forces to implement "urgent measures" against Black African migration, which he said was part of a conspiracy to change the country's racial makeup to that of "only an African country that has no affiliation to Arab and Islamic nations." There are only around 21,000 Black migrants in Tunisia out of a population of 12 million people—about 0.17 percent.
"As you heard from the World Bank, we, too, are deeply concerned by President Saied's remarks regarding migration from sub-Saharan Africa to Tunisia and reports of arbitrary arrests of migrants in recent weeks," U.S. State Department spokesperson Ned Price said on Monday.
The populist president's comments echoed the great replacement theory embraced by far-right politicians in the United States and Europe. He accused "hordes of irregular migrants" of criminality and violence.
The African Union (AU) postponed a continental conference scheduled for next week in Tunisia's capital, Tunis. Meanwhile, the AU's chairperson, Moussa Faki, has condemned Saied's use of "racialised hate speech."
"It's a way to distract people from the socioeconomic problems Tunisia is facing. People need scapegoats," Vincent Geisser, a research fellow at the French National Center for Scientific Research, told France 24. "While he doesn't provide political, social, or economic prospects, he does explain on a daily basis that problems come from abroad." More than six in 10 Tunisians agree that racism is an issue in the country, according to an Arab Barometer survey.