Reports
Small child found dead after migrant shipwreck off Lesbos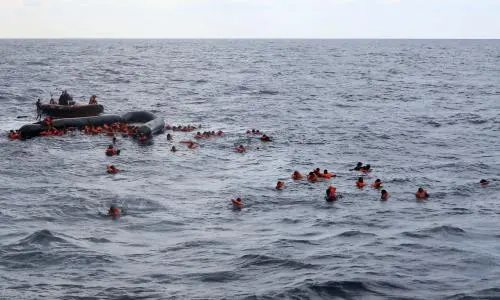 BY|infomigrants
A two-month-old baby was recovered dead from the wreckage of a migrant boat off Lesbos on Friday. The child's mother is believed to have reached the island and is now missing.
The Greek coast guard said it was called to Fara in the south of the Aegean island of Lesbos at noon on Friday (December 16). It found 30 migrants alive and a baby boy who had died. According to a report from the German news agency dpa, the baby had been pushed onto the rocks by the waves. Two of the survivors were slightly injured.
The infant was taken to hospital where he was pronounced dead, coroner Theodoros Nousias told AFP. Sources at the Lesbos migrant reception center told the news agency that the wreckage had occurred when the plastic dinghy carrying migrants, mostly of African origin, hit rocks on the shore.
Helpers blocked by police
The humanitarian organization Doctors Without Borders (MSF Sea) said on Saturday evening that it had been alerted to a group of people in need.
Its team "provided medical and psychological support to 34 survivors", it said, giving a higher number than the coast guard authority. "Tragically, a two-month-old baby was found dead."
The NGO claimed that police had blocked its team from reaching the migrants for two hours and coast guards did the same with another team.
"We will never know if these two hours would have allowed us to save the life of the baby," it said.
MSF Sea said it believed 16 other people from the boat had reached Lesbos and were now missing, including the baby's mother.
Migrant rescues, and deaths, higher in eastern Mediterranean
The Greek coast guard service says it rescued about 1,500 people in the first eight months of 2022, compared with fewer than 600 over the same period last year.
On Thursday, it said 97 migrants had been rescued near the Cyclades island of Kea, about 80 kilometers from Athens.
Many people fleeing Africa and the Middle East seek to enter Greece, Italy and Spain, making crossings by sea and land. In 2022, the most common nationalities of people arriving in Greece by sea were Palestinian territories, Afghanistan, Somalia, Syria, and Sierra Leone.
Boat crossings remain highly dangerous. The UN migration agency IOM has recorded nearly 2,000 dead or missing migrants in the Mediterranean Sea this year.
In the eastern Mediterranean alone, the number of drowned and missing migrants has exceeded 365 since the beginning of 2022, more than three times the number from the previous year.