Reports
What does UK asylum seeker deal mean for Rwanda?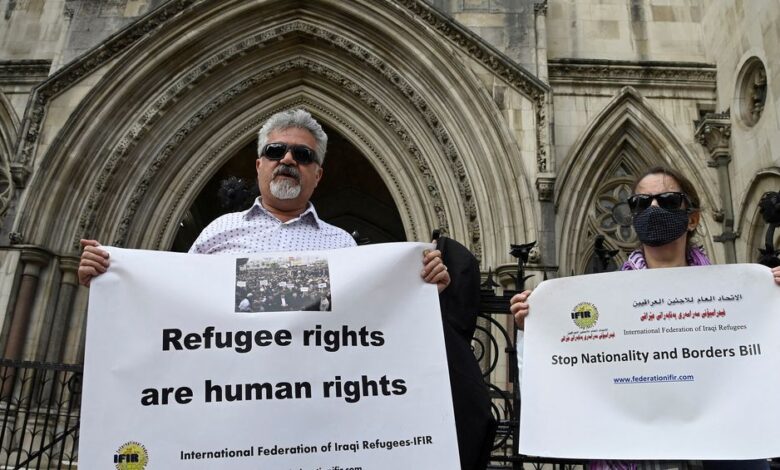 BY|Aysu Bicer and Muhammed Enes Calli – Anadolu Agency
Located in Central Africa with a population of over 13 million, Rwanda is a relatively small, landlocked country as its geography is dominated by mountains and lakes.
But now, this small country — 4,000 miles (6,500 km) from the UK — is at the center of the latest political controversy in Britain.
The British High Court found a UK immigration policy lawful on Dec. 19, putting a controversial asylum seeker plan in the global spotlight.
The plan by the UK and Rwanda will transfer Illegal immigrants from the UK to Rwanda.
British Prime Minister Rishi Sunak is "pleased" about the decision and said sending illegal people to a safe country was "common sense."
Home Secretary Suella Braverman said her office "won" and she defended the government's plan.
What does the deal mean for Rwanda?
Rwandan government spokeswoman Yolande Makolo told Anadolu Agency that her country signed the agreement because it gave Rwanda the chance to "take innovative action" to solve one of the world's biggest crises, which resonates in the country's history.
"This is why we offer safety and security to over 130,000 refugees. Furthermore, thanks to the extraordinary growth and development we have achieved in recent years, we are uniquely placed to offer migrants a chance to build a new life, through education, training, and employment opportunities, alongside Rwandans, and within our communities," she said.
Rwanda welcomed the High Court ruling.
"This is an important step towards important, long-term action to address, in a fair and compassionate way, a global migration and asylum system that has been broken for decades," she said.
For some, Rwanda accepted the deal for political leverage as the country seeks to expand its influence beyond its borders. So, it would take advantage of the plan to decrease international criticism about its human rights record.
UK government seems to be opposed to accepting 'pull factor'
But the plan is beyond politics. The deal is "economically driven," according to Cevat Giray Aksoy of the King's College London, who also serves as associate director of research at the European Bank for Reconstruction and Development (EBRD).
"It is a low-income country and faces challenges in leveraging foreign direct investments for development. Rwandan officials also explicitly state that they signed up to the scheme to receive investments that will help them with achieving their national development goals," he told Anadolu Agency.
He said welcoming refugees is an investment in the future of the country.
"Many studies show that refugees start new businesses, help forge international links, and foster innovation, thereby contributing to the prosperity of their new home countries. Although the UK public is in favor of welcoming refugees from around the world, according to recent polls, the UK government seems to be opposed to accepting any sort of "pull factor."
For example, he cited, as a general rule, asylum seekers are not allowed to work in the UK.
"The government worries about a potential increase in applications from 'economic migrants' whose primary motivation for coming to the UK is to work rather than seek safety."
Asked if Rwanda's acceptance of refugees is economically driven, Makolo said: "Rwanda has a deep, historical connection with the plight of refugees worldwide. As such, we feel a moral obligation to support the world's most vulnerable. The funds provided by the UK will be invested in Rwandan society, helping us to create jobs, improve public services and upgrade our infrastructure for the benefit of both migrants and Rwandan nationals."
UN says agreement 'inconsistent with global solidarity, responsibility'
The UN Refugee Agency, UNHCR, criticized the deal, highlighting that the plan fails to meet the required standards for bilateral or multilateral transfers of asylum-seekers.
UNHCR spokeswoman Kathryn Mahoney admitted to Anadolu Agency that Rwanda generously provided a safe place for refugees who escaped conflict zones but the majority face limitations in accessing economic opportunities.
"UNHCR believes that wealthier nations must show solidarity in supporting Rwanda and the refugees it already hosts, and not the other way around," she said.
Mahoney noted the 1951 Refugee Convention and said: "Asylum-seekers and refugees should ordinarily be processed in the territory of the state where they arrive, or which otherwise has jurisdiction over them."
"UNHCR's position on externalization is well known, we remain opposed to any externalization initiatives that forcibly transfer asylum seekers to other countries," she said.
'It is an inhuman policy'
Karen Doyle, the national organizer for the immigrant rights organization Movement for Justice, told Anadolu "it is an inhuman policy. It is the notion that you just lock people, deemed them criminals, and deport them into a country that is so far away from everything and that has been found to be persecutory of its own citizens."
Doyle said: "the legal case will go on, but we really need a much wider political fight."
Asked about opposition to the plan by human rights groups, Makolo said those who are against the deal do not offer solutions.
"The global migration crisis, and in particular the dangerous illegal journeys it creates, is one a great threat to the human rights of migrants. We need innovative, humane, and decisive solutions," said Makolo.
She added that the partnership between the UK and Rwanda will offer safety, security, and opportunities for migrants while at the same time addressing the "abhorrent" and "highly dangerous" issue of illegal smuggling.
"Humanity is at the very center of this policy," she said, noting that Rwanda is talking with Denmark on a similar asylum seeker deal, but those talks have not concluded.
"For the moment, we are focused on ensuring that this partnership is a success, to create a model that can be built upon in the future," she said.
But Aksoy believes you can only reduce irregular migration only if you provide hope in the migration status via legal channels.
"For example, developed countries can easily create more work visas for people to work in parts of the market where there are shortages. Without addressing the structural problems in the origin countries, it is unlikely that deterrence policies will work in the medium term," he said.
Channel crossings recorded by the UK were at an all-time high of more than 45,000 as of Dec. 20, marking a 60% increase from the previous record in 2021.