Articels
Greece and its war against immigrants!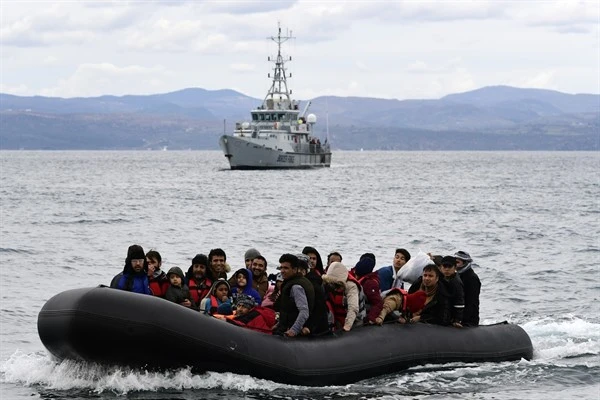 BY| Yenisafak
An article by Prof. Yassin  Aktay
We are following news reports that Greece is forcing migrants who have arrived in its country to return to Turkey. Greece is also doing inhumane actions by sinking migrant boats in the Mediterranean waters, causing the deaths of many of them, in clear violation of international agreements.
Undoubtedly, the real question is: Is inhumane treatment Greece's own policy toward migrants or is Greece doing it on behalf of all of Europe? There are very few migrants who reach and stay in Greece, as almost all of them make their way to other European countries. Greece is not an attractive place for immigrants because its economy is bad and it does not have the basics to offer to immigrants, it can hardly live on the support of the European Union. Accordingly, there is no serious danger surrounding Greece to commit such grave violations of human rights and breach international agreements to which it is a party.
Therefore, the fact that Greece is committing these violations on behalf of the whole of Europe must be accepted.
In his speech to the United Nations General Assembly, President Recep Tayyip Erdogan's criticism of Greece regarding these violations was intended to send a message: "Get away from me (Greece) and listen, neighbor (EU)"
Erdogan stated in his speech that "the refugee crisis cannot be resolved by sinking the boats of innocent people looking for a better future and leaving them to die or throwing them into concentration camps." He pointed to the recent increase in the injustice practiced by Greece towards refugees in the Aegean and the eastern Mediterranean. He showed a picture of the children whose boats were sunk by Greece and said at the time: "While we struggle to prevent the bodies of children from reaching the shores, like the child Aylan, Greece, with its reckless behavior, has turned the Aegean Sea into a cemetery for asylum seekers." (Erdogan)
He continued, "Last week, the nine-month-old child Assem and the four-year-old child Abdel Wahab were both killed, along with their families, after their boat sank by the Greek Coast Guard."
He explained that a long time ago the time has come when Europe and the United Nations organizations must say "enough" to these cruel incidents, which are considered crimes against humanity.
Erdogan's comments made headlines in Greek newspapers. They pointed out that Erdogan's attempt to attack Greece is unfounded propaganda.
On the other hand, Al Jazeera channel showed a documentary film shedding light on the violations of Greece. This is the first time that a television channel has publicly exposed these violations to the entire world.
What is hidden is greater program is one of the most influential programs on Al Jazeera, as it has so far produced successful investigations and documentaries that shed light on very important events. This program has produced a valuable documentary by having access to very serious videos, documents and photos about the violations of Greece and the relationships, dimensions and details of these violations.
The reactions and responses of the Greek official authorities to the events and videos were included in the documentary.
The documentary film presented details documenting the violations committed by the so-called "the masked army", which the Greek authorities use against migrants. This army considered talking about it mere rumors undocumented.
And the "Masked Army" was established for this purpose, which was called the "Shadow Army", as it beats and tortures migrants, steals all their property and pushes them towards Turkey.
Of course, immigrants who have experienced this persecution are somewhat lucky. Migrants who die after their boats were sunk in the Mediterranean by the Greeks have become a routine chore in the fight against migrants.
The documentary attempts to reveal all that is hidden, but its claim is not to be able to reveal what is hidden, but to give everyone an idea of ​​what is still hidden.
So far, the Greek government denies the existence of masked men or the so-called "shadow army". But the video footage reveals that masked men harassed the refugees in front of the European security services.
While watching the documentary, it appears that there are people of Arab origin who are involved in this "shadow army", which operates with a high degree of training and professionalism.
The distinguished presenter and producer of "What is Hidden is Greater" program, Tamer Al-Mishal, held an interview with Turkish Interior Minister Suleiman Soylu on this subject.
According to data published by the Ministry of the Interior, Greece has sent 61,737 migrants to Turkey by following these actions since 2020. And 14,987 have sent them across the land borders.
152 migrants were killed and 200 others were injured. These are the numbers that they were able to document, but there are many who have died and their matter remains undocumented or announced.
The fight against irregular migrants is becoming increasingly acceptable and permissive in our world, almost normalizing the violence and rights abuses put forward in the name of this fight.
This is really the biggest problem. Our world is looking for a way to easily escape the responsibility of facing the consequences of migration, rather than taking responsibility in the name of humanity to face the conditions that create migration and the attitudes that (our world) takes and fuel this problem.
It seems that it is precisely this ground that encourages Greece to commit violations that would make it a criminal against humanity from the point of view of international conventions and laws.
Greece fights migrants on behalf of the whole of Europe, in other words, on behalf of the powers that apply sanctions against violators of agreements and international law.