Articels
'I heard him calling for me': Survivor's account of capsized boat in Mediterranean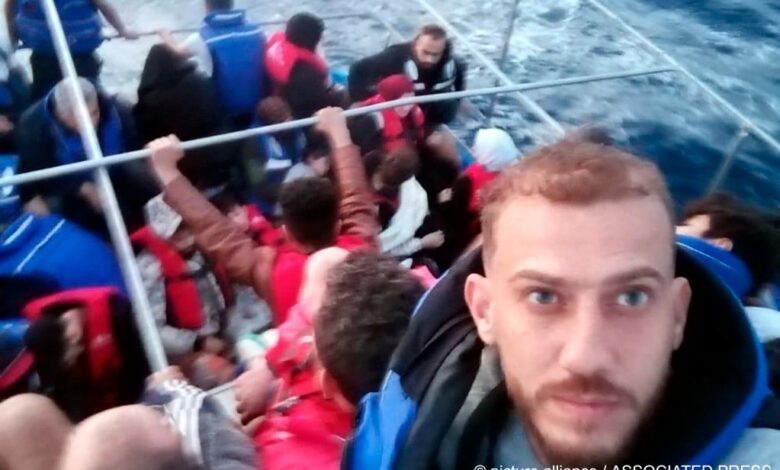 BY| InfoMigrants 
Jihad Michlawi is a Palestinian who had been working in Lebanon. He was one of around 150 people who recently boarded a boat from Tripoli, Lebanon, to make it to Europe. En route, the boat capsized and at least 100 people died. Michlawi survived and told his story to the news agency Associated Press.
At times, as he recounts his story to the Associated Press (AP) reporter Kareem Chehayeb, Jihad Michlawi is reportedly in tears. Now back in Lebanon, Michlawi is one of a few survivors who made it back to shore after the boat he had boarded towards Italy capsized in the Mediterranean on September 21.
A Palestinian, Michlawi says that he had been struggling to get by in Lebanon, working as a chef in the midst of an economic crisis. "Some people who arrived [in Europe] told me that life in a European displacement camp was better than life in central Beirut, and that even the food was better," Michlawi told AP on September 27.
The boat that 31-year-old Michlawi boarded from Lebanon's northern port city Tripoli capsized off the coast of Tartus in Syria a day after setting sail. Michlawi is one of around 20 people who are known to have survived the incident, which has been described as one of the most deadly. On Monday it was reported that the number of victims has reached 100 people, including at least 24 children; others are still missing.
Second thoughts
Michlawi told AP that in hindsight, many of those who boarded the boat should have seen that the boat was not seaworthy enough. But like the other migrants, Michlawi had scraped together thousands of dollars and paid the smugglers for the journey.
The Palestinian calls the smugglers "monsters" as he explains how he and five others were driven overnight from the Lebanese capital Beirut towards Tripoli at night in a car with tinted windows. The smugglers then reportedly put him and "dozens of others" into "pickup trucks" and covered them with a tarpaulin.
From there, the migrants were taken towards a small boats. Michlawi recalls having second thoughts but decided, "at this point we just thought we might as well go since we got there, but we probably should have considered the danger we put ourselves in."
Dozens drowned
Almost immediately, the boat's engine would stall intermittently, Michlawi recalls. The next day, it reportedly stopped altogether and the waves began rocking the crowded boat as panic set in. Several times, Michlawi was knocked against the walls of the boat and broken glass pierced his left food. Then a particularly large wave knocked "dozens of people off the boat and into the water where they drowned," reports AP.
The memories of this experience will not leave him. Michlawi says he used to love the sea "but now I avoid it. I don't even want to have a coffee at the beach anymore," he admits. The "voices of the children screaming" still haunt him and prevent him from sleeping, he says. He is also struggling to eat because of the trauma he suffered.
After the waves knocked dozens of people off the boat, Michalwi and some of the other survivors decided they would be better to risk swimming back to shore than stay on the unseaworthy boat. One of those who jumped in the water with him was a 22-year-old Syrian man named as Ayman Kabbani, Michlawi explains.
'He held me while he tried to swim with me'
But Kabbani struggled to swim the distance. "He held me while he tried to swim with me, and whenever he would be tired, I would hold him and try to swim with one hand," remembers Michlawi. He says the two could "barely see" due to the "salt water in our eyes and the heat of the sun."
At a certain point, Michlawi couldn't support the two of them and Kabbani tried to swim on his own. "I heard him calling for me," remembers Michlawi "but I would turn around and not see him." Michlawi thought he was about to die, but then an image of his father appeared before him. And a little while after, he reached the Syrian coast at Tartus.
An elderly woman and man found Michlawi on the beach, reports AP, where he was screaming "please don't leave me." Michlawi remembers the woman giving him water and that the man said he was "coughing blood, and then I passed out and woke up at the hospital in Tartus."
Michlawi was "covered in gashes and bruises" reports AP. A short while later, Michlawi was taken back to Lebanon, but his struggles continue, because now he needs to find a job again. Although there are tens of thousands of Palestinians living in Lebanon as refugees, they are not allowed to legally work in dozens of professions or own property.
Living in poverty
The UN children's charity UNICEF told AP, that Palestinian refugees in Lebanon are "effectively excluded from enjoying most civil and socio-economic rights" in Lebanon. Many of them stay in over-crowded refugee camps which resemble "urban slums."
In Michlawi's own family, several relatives, reports AP, hold college degrees but are not able to use them. One cousin has a degree in mechanical engineering but works as a bus driver. Michlawi told AP: "We are not asking for mansions or to become generals or ministers in the government. We just want our basic rights as Palestinian people to sustain ourselves, that is all."
According to the UN refugee agency UNHCR, attempts to leave Lebanon have surged by 73% in the last year. Those leaving are mostly Palestinians and Syrians, but also Lebanese nationals are joining their numbers. The Lebanese pound has lost at least 90% of its value against the dollar and the economy is spiralling down for the third year in a row. Three quarters of the population are thought to be living in poverty.
This is based entirely on an AP feature written by Kareem Cheyhayeb